ABOUT THE PHOTOGRAPHERS
Alan has been doing photography since 1965 when he started out with a used Ansco Memar 35 mm camera. This was quickly followed by a home darkroom equipped with a Durst M300 enlarger, and over the next few years, he pursued anintense hobby of black and white photography. The equipment was eventually upgraded to a Konica Auto S2 rangefinder and then an Olympus OM-2 SLR. He then branched out into scientific photography during his research years, publishing a variety of photographs in scientific journals, and later began to do clinical photography in different outpatient and hospital settings. In 2000, Alan purchased his 1st digital camera, a Sony DSC-S70, and coupled with the new archival quality Epson 2000P 6-ink printer, a Digital Darkroom was born. Now Alanshoots with a variety of gear including full-frame Nikon DSLR's, medium format film cameras (Contax 645, Fuji GX-617, Horseman 612) and also an Ebony SW-45 4"x5" large format camera.
Minerva has been an avid photographer for the past 10 years, concentrating mainly on flower and landscape photography. This began when she moved to the Middle East and has continued to this day. She currently shoots with a full-frame Nikon D700 camera. She is a founding member of the SKMC photo club.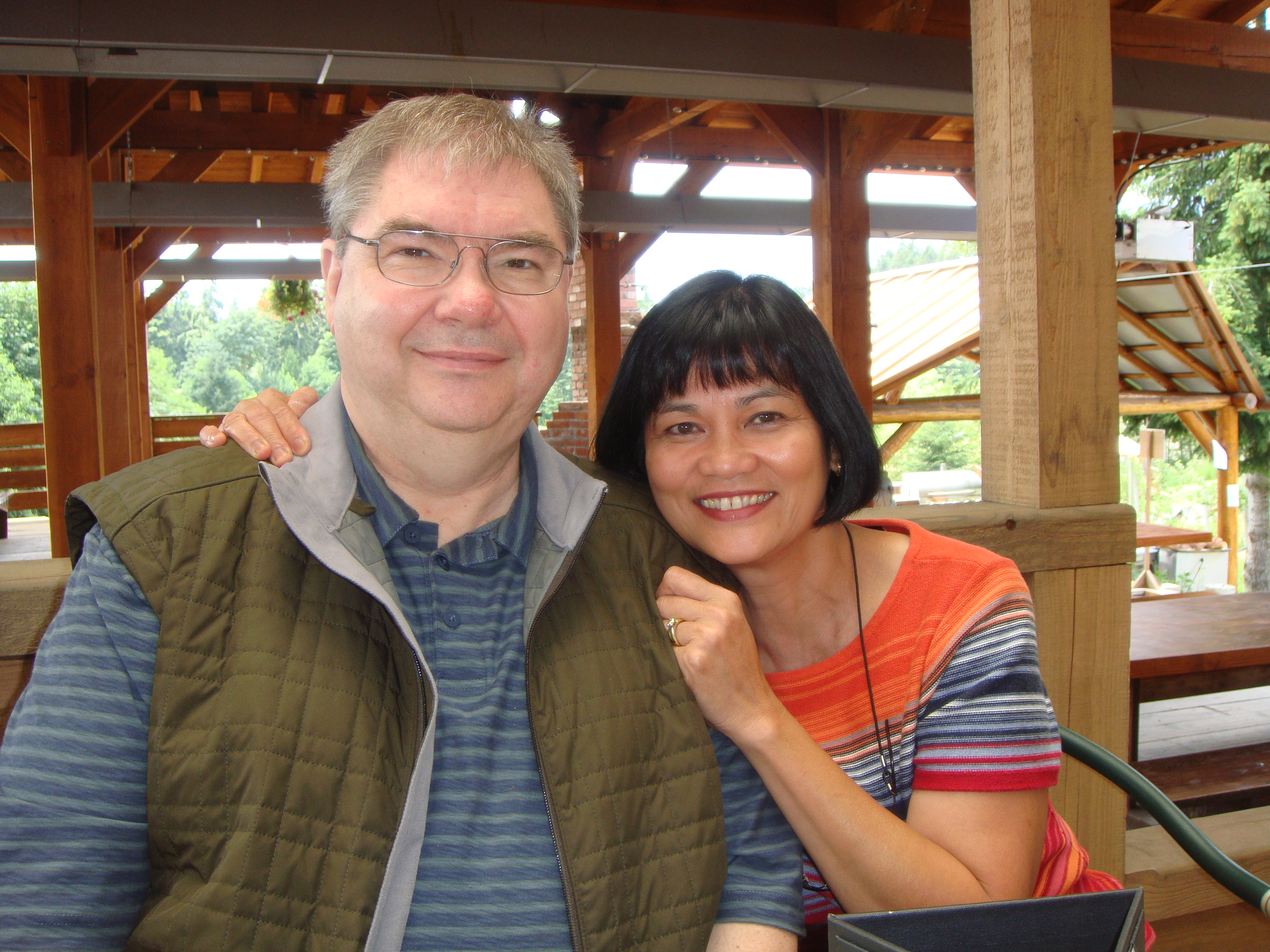 ABOUT SKEENAGRAPHICS LLC
SkeenaGraphics LLC is a Fine Art Photography company, wholly owned and operated by Alan & Minerva Hoffman. Our studio is located in Maple Bay on Vancouver Island, in the beautiful Cowichan Valley. We have a stock library of over 100,000 photographs taken from a variety of locales around the world, from which we prepare prints for retail and wholesale sales. The recent acquisition of an Epson Stylus Pro 9900 commercial printer, has allowed us to expand our services, to offer large prints, prints on canvas, posters and signs. As well as our meticulous printing service, we offer custom matting and framing of our prints and canvas wrapped prints on "stretcher bars", as well as the creation of cards, calendars and brochures. Our web site at www.skeenagraphics.com remains a work in progress - check back frequently to see new services and additional galleries. We also offer scanning services from negatives, transparencies and prints, photobook printing using the UniBind thermal printing system, and restorations of existing prints. 2010 will be a pivotal year for SkeenaGraphics as we roll out new products and services. We are fully licensed in the District of North Cowichan as a home-based business, and have proper PST/GST certificates. SkeenaGraphics LLC is registered as a Canadian Publisher with the ISBN system, and all of our book and calendar products are issued with ISBN numbers.
Studio SkeenaGraphics HQ in Maple Bay